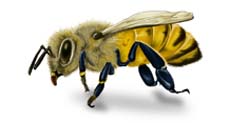 Bee infestations threaten your family, destroy your property and attract other pests. Stinging insects like bees send many people to the emergency room each year. Bees will often sting as a way to protect their colonies and larvae from people either directly attempting to remove the bee hive on their own or just minding their own business; mowing the yard or playing outside with the kids. When threatened, bees can attack in large numbers with victims receiving many stings. In addition to being painful, stings can cause skin irritation and even a serious allergic reaction. And with a growing population of Africanized bees, it is increasingly important to contact trained bee removal experts. Do it yourself pest removal should not be an option when it comes to bees. Pest 911 provides the level of expertise needed for prompt bee removal.
Other Stinging Insect Pests
Wasps, Hornets, and Yellow Jackets
Pest 911 of Ocala and The Villages FL also treats for wasps, hornets, yellow jackets and other stinging insects. Call Pest 911 for more information about bee removal or stinging insect control.