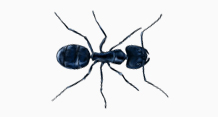 You spend a lot of time, effort and money fortifying your home against intruders, natural disasters and other damage but pests could be even more of a threat! When pests breach your defenses, there is no need to feel frustrated or at a loss. Pest 911 can help. We provide prompt, effective pest control services to Ocala and The Villages FL homes and businesses. At Pest 911, we employ an Integrated Pest Management (IPM) philosophy. This means we perform a full inspection of your property before offering any recommendations. Before we conquer your pest problem, we will come to your home or business and see it for ourselves. We invite you to show us what you have discovered, and we will then use our expert knowledge to track down the root of the problem and offer a personalized plan of action. Our IPM strategy also means that we carefully consider all possible solutions for your infestation, including:
Organic treatments, chosen based on the particular pest and your immediate environment
Improved sanitation like standing water removal
Minor home repairs such as new caulking to patch cracks and crevices that pests use to gain access to your structures
Preventative measures like new fitted window screens
Custom Pest Control Solutions
Pest 911 understands that pest control is a huge concern for home and business owners living and working in Ocala and The Villages FL due to the numerous risks pests pose. Cockroaches, ticks and mosquitoes can pose a much bigger risk to local residents than annoyance, itchy bites and embarrassment. Identifying an infestation or the potential for a pest problem is the first step in keeping people, pets and properties protected from both the destructive habits of pests and the diseases they carry. Pest 911 will give you a custom solution tailored to your specific problems and circumstances. We proudly help Ocala and The Villages business and homeowners find the most efficient and effective pest management options. Don't just sit around and wait around for pests to take over your home or office; call Pest 911 for expert pest control today!